I love jewelry! For most shoes are the most important accessories, but for me, jewelry is always at the top of the list.  Sometimes I will plan an outfit around a pair of earrings. Which has happened a lot lately because right now I'm completely obsessed with statement earrings. Below I have featured three of my favorite pairs at the moment and their brands.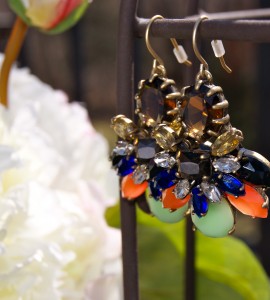 First and foremost there is J. Crew. Most people know them for their amazing sweaters and classic dresses, but their jewelry is really the best part of their inventory. They have a way of making fun creative pieces that still have a classic touch. I love this pair, which I got over the holidays at my local J. Crew store. These are the type of earrings that can make a classic, even professional, outfit look fun and unique without cheapening or throwing off the look.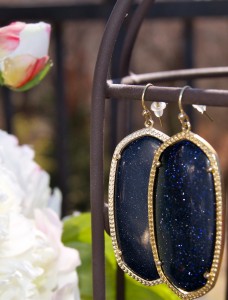 Next there is Kendra Scott. This brand has become wildly popular in the last five years and it's not hard to see why. Kendra Scott's jewelry is very modern, bold, and most importantly colorful. If you need a specific color of earrings to match an outfit I guarantee that this brand has it. You can even customize the colors on certain pieces! No picture can truly capture the great color of this pair of sparkly midnight blue earrings. I love these especially because they are simply enough in design to go with most outfits, while still capturing a lot of attention.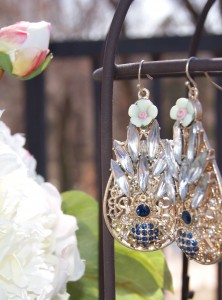 Lastly there is Anthropologie. I love Anthropologie's jewelry mostly for its variety. Their inventory is diverse and is extremely unique to the brand. The pieces are also sold for a wide range of prices, some of which are very affordable. This pair of earrings is the type I like to pair with a simple outfit. They bring enough color, uniqueness, and fun to a look all by themselves, which can be said for most of the pieces at Anthro!
These pieces are some of my favorites in my collection right now, but excluding the pair from Francesca's in the upper right of the first photo, these are all pretty pricey. Obviously I love great quality jewelry, but when it comes down to it I'm going to spend my money on a great top over a great pair of earrings. So I have made it my business to find great stores and websites where I can get fun statement jewelry at a low cost. Below are some of my favorites.